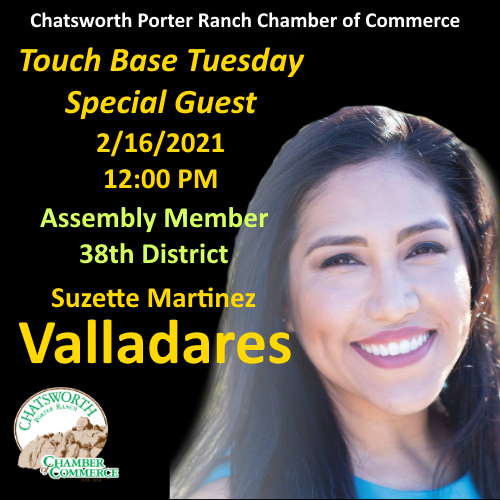 Next week on Tap:  2/16/2021 – Welcome newly elected Assembly Member Suzette Martinez Valladares (R) for 38th Assembly District.
She grew up in the San Fernando Valley, the granddaughter of a farmworker who worked alongside Cesar Chavez in the vineyards near Bakersfield. She was blessed with loving parents who valued education, family and community responsibility.
Suzette worked her first part-time job at Six Flags Magic Mountain. After college, she remained close to home serving as a district representative for former local Congressman Buck McKeon. During that time she was honored as a "SCV 40 under Forty" by the Santa Clarita Business Journal. In 2012, Suzette left the public sector and became Executive Director of Southern California Autism Speaks. Her career is based on serving others, with a passion for early childhood education and advocacy.
After her mother's passing in 2018, Suzette was asked to assume her mother's role as CEO of Little Steps of Faith, a faith-based non-profit preschool that provides quality childcare to underserved families in the San Fernando and Santa Clarita Valleys.
Suzette was elected to the California State Assembly with 76% of the vote in November 2020. Assemblywoman Valladares was selected to serve as the Vice Chair of the Arts, Entertainment, Sports, Tourism, and Internet Media Committee, and on the Assembly Committees on the Budget (Education Finance, Public Safety Subcommittees), Communications and Conveyance, Rules, and Higher Education.
Suzette and her husband Shane live in Santa Clarita with their daughter Charlotte.